Runde 8 der erfolgreichen Tournee durch Europa



Die Impericon Never Say Die! Tour geht in die 8. Runde. Wie bereits in den letzten Jahren präsentiert die Tour auch dieses Jahr wieder ein Hammer-Aufgebot aus den führenden und aufstrebenden Bands Ihres Genres.

Avocado Booking hat es erneut geschafft ein unglaublich fettes Line-Up an den Start zu bringen, dass jedes Fan-Herz höher schlagen lässt.


In den kommenden Wochen nehmen wir das Lineup genauer unter die Lupe. In diesem Jahr dürfen sich besonders Anhänger
von neuen und älteren Hardcore-Tönen freuen! Im Gegensat zu den letzten Jahren sind weniger Metal- und Deathcorebands vertreten.
Angesichts der hervorragenden Mischung dürften es volle Hallen und energetische Shows geben!

LINE UP: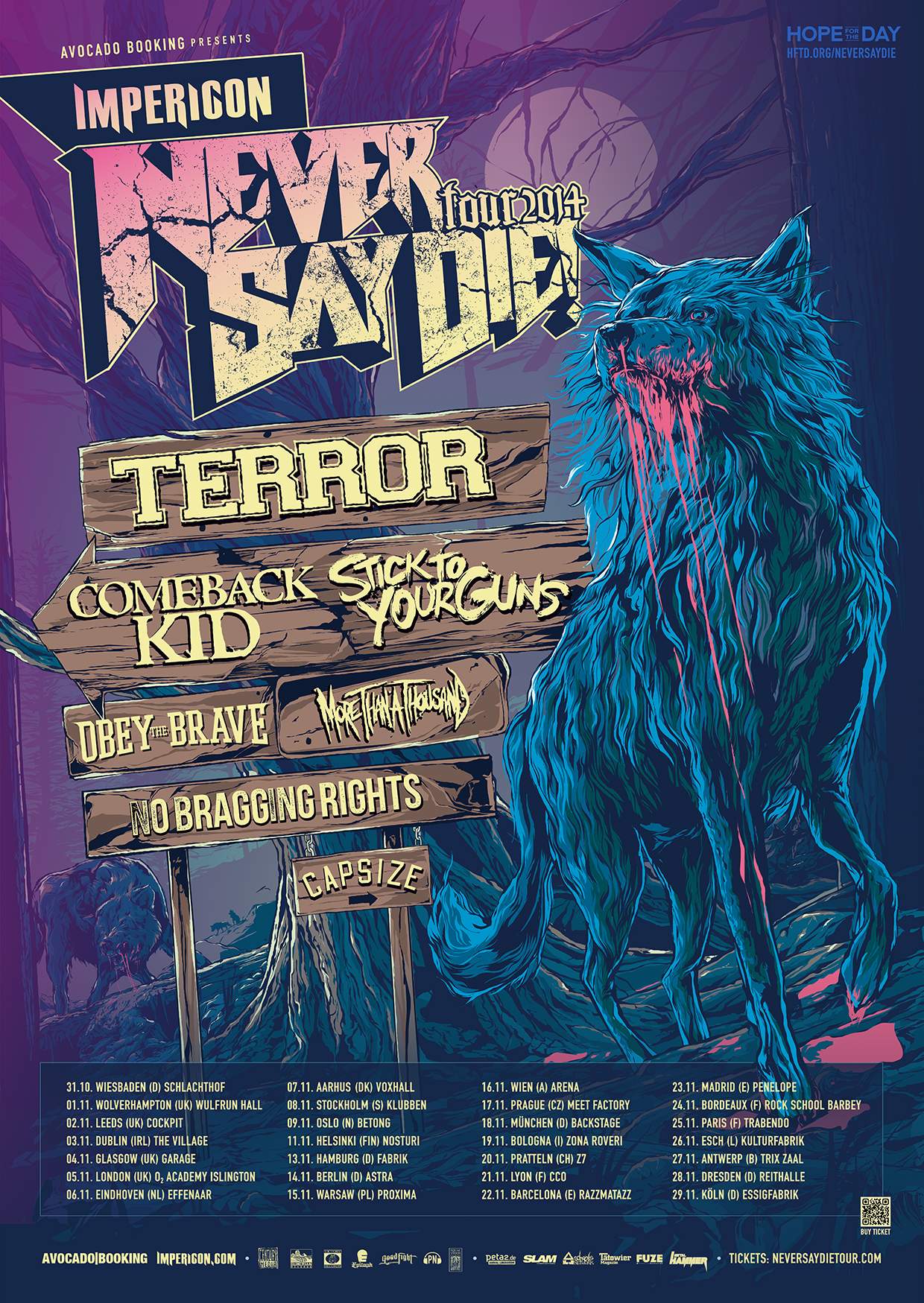 IMPERICON NEVER SAY DIE! TOUR 2014
Terror
https://www.facebook.com/terrorhardcore
Comeback Kid (rotating slot with STYG)
https://www.facebook.com/Comeback.Kid
Stick To Your Guns (rotating slot with CBK)
https://www.facebook.com/STYGoc
Obey The Brave
https://www.facebook.com/obeythebrave
More Than A Thousand
https://www.facebook.com/morethanathousand
No Bragging Rights
https://www.facebook.com/nobraggingrightsofficial
Daten:
31.10.14 Germany Wiesbaden @ Schlachthof
01.11.14 UK Wolverhampton @ Wulfrun Hall
02.11.14 UK Leeds @ Cockpit
03.11.14 Ireland Dublin @ The Village
04.11.14 UK Glasgow @ Garage
05.11.14 UK London @ O2 Academy Islington
06.11.14 Holland Eindhoven @ Effenaar
07.11.14 Denmark Aarhus @ Voxhall
08.11.14 Sweden Stockholm @ Klubben
09.11.14 Norway Oslo @ Betong
10.11.14 Day Off
11.11.14 Finland Helsinki @ Nosturi
12.11.14 Day Off
13.11.14 Germany Hamburg @ Fabrik
14.11.14 Germany Berlin @ Astra
15.11.14 Poland Warsaw @ Proxima
16.11.14 Austria Wien @ Arena
17.11.14 Czech Rep Prague @ Meet Factory
18.11.14 Germany München @ Backstage Werk
19.11.14 Italy Bologna @ Zona Roveri
20.11.14 Switzerland Pratteln @ Z7
21.11.14 France Lyon @ CCO
22.11.14 Spain Barcelona @ Razzmatazz
23.11.14 Spain Madrid @ Penelope
24.11.14 France Bordeaux @ Rock School Barbey
25.11.14 France Paris @ Trabendo
26.11.14 Luxemburg Esch @ Kulturfabrik
27.11.14 Belgium Antwerp @ Trix Zaal
28.11.14 Germany Dresden @ Reithalle
29.11.14 Germany Köln @ Essigfabrik
Tickets sind ab 04.06.2014 bei Impericon und ab 06.06.2014 bei allen anderen bekannten Vorverkaufsstellen erhältlich.
Tickets:
OFFIZIELLE WEBSEITEN:
http://www.neversaydietour.com
http://www.facebook.com/NeverSayDieTour
http://www.hftd.org/neversaydie
@neversaydietour / #neversaydietour
@impericon / #impericon
@avocadobooking / #avocadobooking